So it's halfway through May now (whaaa), and here's me cracking out last month's favourites because it's never too late right?! I've been away a while and honestly, I feel like I'm a little rusty on the blogging game – so what better way to ease myself back in then with a favourites?!
The Vampire Diaries – Netflix
Nope, I'm not new to this show and yes I have watched it before – save the last two seasons. I found myself browsing through Netflix and kept coming back to this – I decided I'd watch it from the very beginning again and I have been loving it! I'm currently at the beginning of Season 4 (binge watcher, no shame) and must wholeheartedly confess my love for the Original vampires – Klaus is such a good villain! If you haven't watched it before, Seasons 1-6 are on trusty Netflix now, go go go!
13 Reasons Why – Netflix
Whilst we're on the Netflix train, I wanted to throw this one in. It follows the build up to one teenage girl's suicide, with said teen narrating via cassette tapes from beyond the grave with the 13 reasons – and people behind the reasons – that she kills herself. The tapes make their way through the people mentioned, and we see – particularly from Clay's point of view – how everyone deals with the fallout of it all. It's pretty heavy at times, but I was hooked – not only is it well made, and the cast brilliant, but it's such an important subject to highlight. I took from it that, if you can't be kind, be quiet – you never know how your words might affect somebody, and this show handles it brilliantly. Interesting fact: Selena Gomez is one of the producers. Let me know if you've watched it!
Pineapple Fairy Lights – Primark – £6
I just freaking LOVE these! I'm pretty sure I spied them on Primark's Insta stories and I knew I had to have them! I'm such a sucker for fairy lights anyway, but these make me feel all Summery and happy – plus at £6 you can't grumble!
Denim Jacket – Charity shop – £6
YEP, I'm all over this current trend! I couldn't not be – a denim jacket is something I feel like will never go out of style!  I'm normally a size 8 but this is a 12, and I have to say I much prefer it being a little bigger on me and I'm loving rolling the sleeves up. It's my go-to and it just goes to show that a little charity shopping can definitely unearth some amazing finds!
'Sign of the Times' – Harry Styles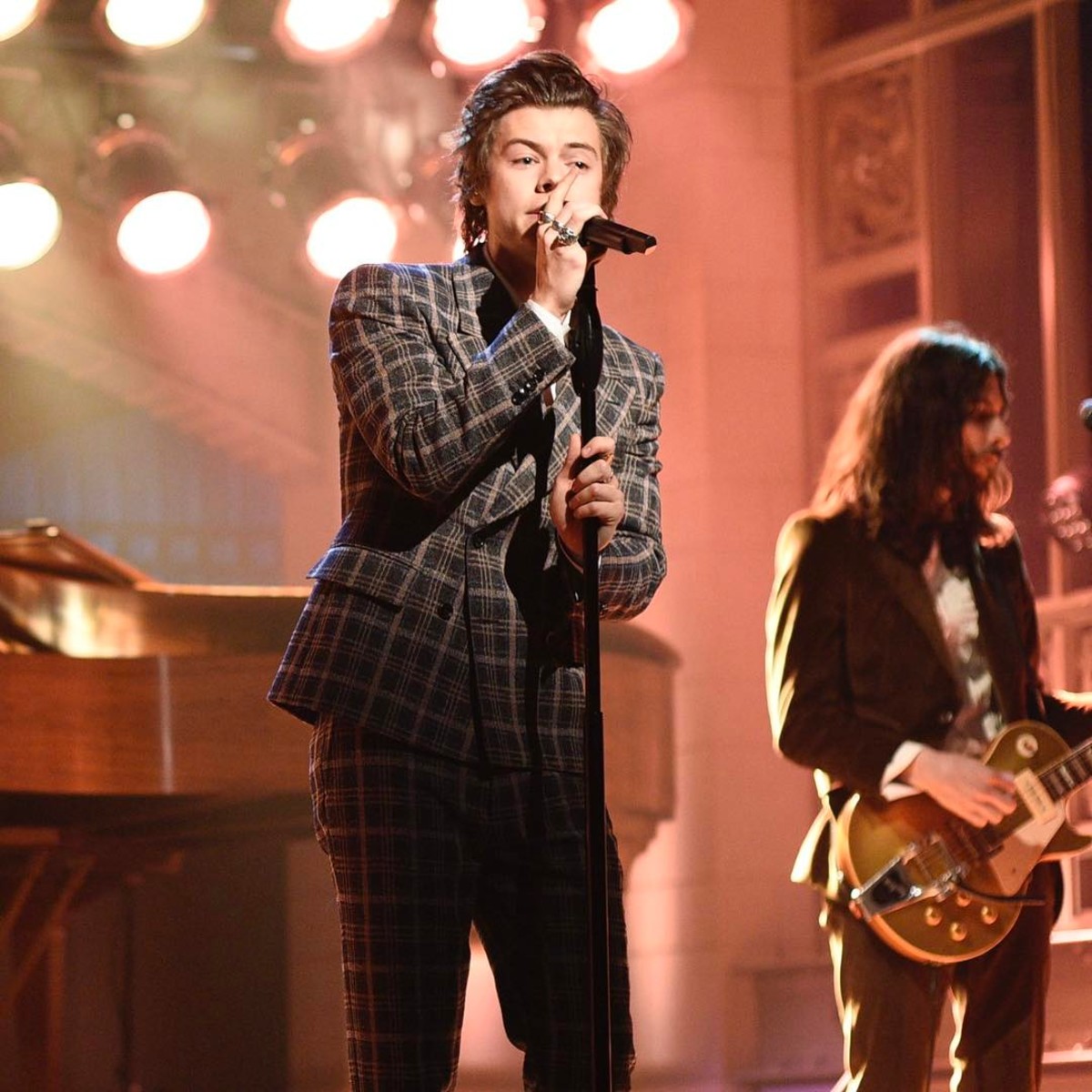 OMG. There were no words when I first heard this – I literally fell in love, pressed repeat, then fell in love again. It's very David Bowie I feel?! I wasn't sure how I felt about Harry going solo but I'm flippin chuffed he did, and judging by the fact I also love 'Sweet Creature', I'm soo excited to give his album a listen!
Galaxy Ripple
I don't really know what to write here, other than I can't stop eating these, they taste too bloody good, someone take them away, oops too late I've eaten them all.
…hi spots.
L'Oreal Infallible Fixing Mist – Superdrug – £8.99
I'm not gonna lie, this has pretty much been saving my bacon – I'm annoyingly one of these skin types that can't seem to keep their foundation on their face for very long, particularly around my nose, on my nose and my chin. I basically get to 1pm and look patchy AF. So I've been spritzing my face with this in an effort to keep everything where it should be and…it's magic! I'm really impressed with it. Top tip: remember to give it a good shake before using as I didn't read the bottle the first time and spritzed away, planting white spots all over my freshly done makeup. I actually got this on offer at the time with the Infallible blender and primer for like…£12 – I know! That's no longer on now, but you can find it for £8.99 at Superdrug as part of a 3 for 2 on selected L'oreal Paris products. You're welcome.
& that's April! Believe me I could have gone on, and honestly if it was acceptable to keep adding Netflix shows to this list I would have (nobody's saying it's not acceptable, but I'm trying to give the impression I have a life so…y'know..) Let me know what you've been loving, and what you think of my faves!
Thanks for sticking with me and – as always – big kisses,
Come find me on Instagram! @katscarlettj & Twitter! @katiessanctuary